鍼灸治療院セラキュア
〒141-0021 東京都品川区上大崎2-24-10 島田ビル3F
【受付時間】10:00〜20:00 【休診日】日・祝祭日


予約専用電話 TEL 03-3491-4589



THERACUA Acupuncture Clinic
Kamiosaki 2-24-10 Shimada Bld.3F, Shinagawa-ku, Tokyo 141-0021
【Open】10:00〜20:00 【Closed】Sun.・National holiday.


For appointment, Call 03-3491-4589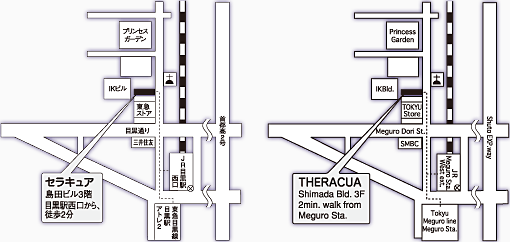 ▲クリックすると拡大図が表示されます。 Click to view a large map.


JR山手線目黒駅西口、東急目黒線、東京メトロ南北線、都営三田線目黒駅より徒歩2分。
お車でお越しの方は当院の隣にあるIKビルの地下有料駐車場(30分300円)が便利です。
2 min. walk from JR Meguro station west exit, or Tokyu Meguro line, Tokyo Metro Nanboku line, Mita line Meguro station.
There are parking spaces next to the clinic, on the basement of IK building, for 300yen/30min.

| | |
| --- | --- |
| | HOB'Sというパン屋さんがあるレンガ色のビルの3階です。写真の小さな看板が出ております。 We are on the third floor of a brick-colored building, with a bakery called HOB'S on the ground floor. There is a small sign as shown on the picture. |
■ セラキュア鍼灸治療院のご予約について
   Taking appointment with Theracua Acupuncture Clinic
当院では患者様をお待たせしないように完全予約制となっております。お越しいただく前にお電話にてご予約をお願いいたします。
ご予約の時間に遅刻されますと、最大限の効果を出すための治療が困難になるため、必ず治療時間の5分前にはご到着くださいますようお願いしております。初診の場合は20分前にお越し下さい。 お支払いは現金にてお願いしております。クレジットカードでのお支払いは、お受けしておりません。
We accept patients by appointment only. Please call us and make an appointment in advance. If you are late for the appointment, it makes it difficult for us to provide you with the most effective treatment. Therefore, we ask you to arrive five minutes before the appointment time. For the initial visit, please try to arrive 20 minutes before the appointment time.
* We accept cash only. We are afraid, but, we do NOT accept credit cards.
■キャンセルについて Cancellation policy
予約時間の変更、キャンセルの際は、必ず前診療日の診療時間内にご連絡を下さい。
それ以降は、治療費と同額の料金をいただく場合がございますのでご注意ください。
Please notify the clinic by the end of the previous work day, if you are unable to make your appointment. Otherwise, you could be liable for the cost of the treatment.

Copyright 2007 Acupuncture Clinic THERACUA Allright Reserved.